EFC/HBS Exclusive: Robert Luketic Activates The Wonder Twins Movie
by

David Cornelius



For years it's been one of Hollywood's hottest in-the-works projects, a title that seemed destined to spend eternity in development hell. But now, finally, it's a go: Warner Bros. is making a Wonder Twins movie.

"It's actually been in the works for months, but we wanted to keep it a surprise for a while," director Robert Luketic explained in an exclusive phone interview. Luketic was brought onto the project last fall but was worried that any announcements regarding his helming such a movie would overshadow the publicity for his current film, the poker drama "21." "Plus," he added, "I just love the idea of a really big surprise."

The biggest surprise is the cast. Superstar comic Dane Cook has been tapped to play Zan, the alien brother with the power to transform into water, and Cook's "Good Luck Chuck" costar Jessica Alba will play sister Jayna, who can morph into any animal she chooses. "I've been wanting to work with Dane forever," Luketic said, "and when I saw how he and Jessica worked so well together in 'Chuck,' I knew I had my dream cast."

Alba is no stranger to superhero cinema, having played the Invisible Woman in the two "Fantastic Four" movies. But for "Wonder Twins," she was hired for her comic chops. Luketic praised her for being "such a smart performer. We just shot a teaser trailer where it's Dane riffing for like ten minutes on how everybody puts Zan and Jayna down, and Jessie was able to ad-lib right back. It's hilarious."

That trailer won't show any clips from the film, which only recently began filming in Vancouver. Instead, we'll see Cook and Alba in character, complaining to each other about how nobody takes them seriously as superheroes.

The teaser won't be released just yet - it's likely to be attached to "Speed Racer" next month - but Luketic reveals it will clue audiences in as to what to expect with a Wonder Twins movie. "The reason it took so long to get this off the ground is, simply, the twins' reputation as a punchline," the director said, referring to the characters' lackluster debut as part of the "Super Friends" cartoons of the 1970s. "Gen-Xers think of Zan and Jayna as a big joke, and of course we have to address that right from the top. I mean, it's a guy who turns into a bucket of water. One of those 'what were they thinking?' things, you know? But to those same Gen-Xers, there's some serious nostalgia that gives us the leeway to embrace the characters. Everybody's got a little sweet spot for these goofy superheroes."

The film won't be all laughs, though. Luketic, a veteran of light comedies, is relishing the chance to tackle big, comic book-sized action sequences. "There's some pretty cool stuff," he said. "We're going to mix some serious action in with the comedy, and vice versa. Big, big stuff. When [the fans] see how we update the characters and their powers, they're going to go nuts. They'll just love it."

Luketic is keeping the rest under wraps for now, although he wryly promises that "now that the cat's out of the bag, you'll be hearing more on a pretty steady basis." The first treat along those lines is an early glimpse at the movie's first posters (see above and below), which feature a thoroughly casual Cook and Alba looking not at all like the characters' original bangs-and-high-collared-tights look; only the familiar "Z" and "J" logos remain, albeit in modernized form. The director won't comment on the new look, agreeing only to say, "Hey, we're still going with purple. Other than that… well, you'll see in a couple weeks."

The third poster is less revealing. In it, Gleek, the twin's pet space monkey, peers playfully over the edge of the frame. "We wanted to let fans know that, yes, Gleek's here in all his Gleek glory," Luketic explained with a chuckle, "but he's one of my favorite surprises, and I wanted to hold off on, you know, the Full Gleek."

So what else can we expect from "Wonder Twins"? Luketic promises many more surprises in the coming year: "We're got some seriously hot casting news, and there's already a lot of really fun behind-the-scenes stuff I'm itching to show everybody. But that'll have to wait. More secrets, you know. I just love those secrets."

"Wonder Twins" will hit theaters on Wednesday, April 1, 2009.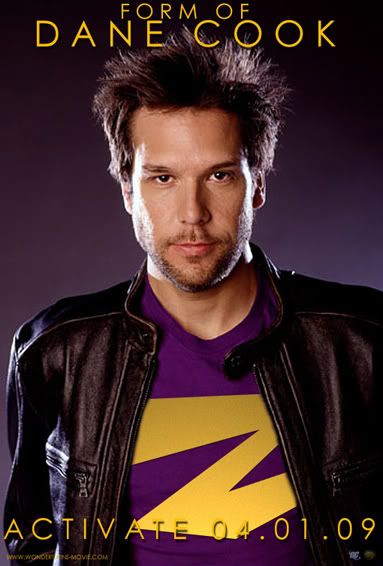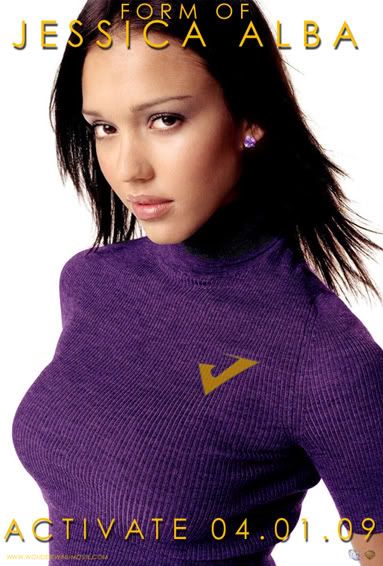 link directly to this feature at http://www.hollywoodbitchslap.com/feature.php?feature=2455
originally posted:
04/01/08 00:14:32
printer-friendly format