Book Review: The Total Film-Maker
By Rob Gonsalves
Posted 11/11/08 16:02:36

It's fitting, perhaps, that I first heard about Jerry Lewis' "The Total Film-Maker" in Bill Griffith's absurdist comic strip "Zippy the Pinhead."

Griffith was fixated on one line from the book's prologue: "You have to know all the technical crap as well as how to smell out the intangibles, then go make the birth of a simian under a Jewish gypsy lying in a truck in Fresno during a snowstorm prior to the wheat fields burning while a priest begs a rabbi to hug his foot."

Huh?

When you read the book, though, that slice of advice actually makes sense. To translate from Jerry-ese to English: "Learn the basics, then do all the weird stuff you want."

First published in 1971, drawn from many hours of tape recordings of Jerry's film course at USC, The Total Film-Maker is probably the most readable and common-sensical book any aspiring director could own. Unfortunately, it's out of print. No matter. If you want to make movies, do what you have to do to find a copy. If you don't want to make movies, but simply want a fascinating account of Lewis' filmmaking (sorry, "film-making") career with dozens of examples of what he had to do to get film in the can, find a copy. If you're a Jerry fan, find a copy. You can't have mine.

Spiked with bits of Jerry's inimitable verbal humor (on shooting inserts: "Some directors want to shoot everything in their picture, including the mongoose's armpit"), the book is divided into "Production," "Post-Production," and "Comedy," the third section focusing on how to shoot funny stuff. Now, some of the specifics are outdated these days. Hell, we're talking 37 years ago. But Jerry's tough-minded creative advice still holds true. Even if you don't want to make slapstick pitched at six-year-olds, you'd do well to heed a lot of his guidelines, particularly his chapter on dealing with actors. (As an actor himself, he's seen it from both sides.)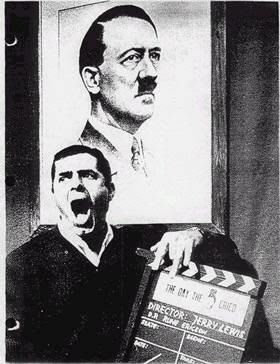 Two things loudly unmentioned here: Dean Martin, and Lewis' notoriously, painfully aborted labor of love The Day the Clown Cried, which remains the Holy Grail for collectors of rare cinema. In the "good call" department, he writes this in the epilogue: "Recently I saw a film made by a twenty-one-year-old, Steven Spielberg. It was twenty-four minutes of film called Amblin', produced for around $17,000. It rocked me back. He displayed an amazing knowledge of film-making as well as creative talent." You get Jerry's take on other directors, too: Kubrick's 2001 ("a brilliant film"), Hitchcock's Psycho ("He crossed the line of decency").

Jerry is rarely given credit for being a technical pioneer. On the cover of The Total Film-Maker is the massive $900,000 indoor set he had built for The Ladies' Man, the biggest studio set ever filmed up to that point. On the same movie, Jerry started using a video camera next to the film camera, a process that changed filmmaking and became an industry standard. Even if you have little use for his actual movies, the man has contributed.

Yet he has never been honored at the Oscars, and he has not directed a feature film in 25 years (1983's Smorgasbord); he has not shot a frame of film at all in 15 years (he helmed a segment of 1993's anthology Comment Vont les Enfants). The disappointment of The Day the Clown Cried killed him a little, I think. But in this book, published only a year before that disaster, Jerry is still madly in love with film and film-making, and the love is infectious. Some enterprising publisher of film-related books (say, Applause) needs to bring The Total Film-Maker back into print, with perhaps a new introduction by Jerry (or maybe by Martin Scorsese, who directed Jerry so memorably in The King of Comedy), so it can be in bookstores alongside Robert Rodriguez's Rebel Without a Crew inspiring a whole new generation to get out there and — as Jerry exhorts — "make film, shoot film, run film."