His life was his own.
by

Marc Kandel



Sit with me for a moment or six.

Once upon a time a random channel-flip landed me on a Wonderful World of Disney showing of The Scarecrow of Romney Marsh. I don't remember much of it anymore, I believe it was summer but I couldn't tell you my age or the year. For weeks I drew pictures of the cloaked, bag-headed vigilante on every shred of paper I had. I wanted to be this guy in the worst way: the absolute authority in that creaking, iron voice, the ability to command absolute loyalty at a glance, the slack jawed fear in his adversaries- this was a man to be reckoned with.


I searched for a burlap sack to create a mask, and some straw to glue on, only to find that burlap and straw were not easy to come by in deep suburbia, nor was my mother willing to entertain such a thing, particularly we were nowhere near October, the only month where such pursuits might be permissible (and sane). Thwarted, I stalked off into the night (Actually, I shuffled into the kitchen for a chocolate milk).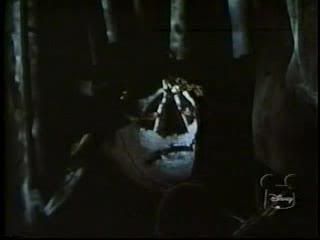 And then I forgot about it. Years passed. Flash forward near the end of middle school. A hellish time: smashed in the face with the puberty mallet. Looking like I'd done the 50 yard dash in a 20 yard gym- big ears, big nose, bad hair, bad voice, bad clothes, bad breath, bad attitude (and not in the good "bad attitude" way), blah blah blah, you've all been there. Some stuff I could have helped, some I couldn't- whatever the case, I was despised, alone, miserable. As I didn't have access to firearms, which wouldn't be chic for another 4 or 5 some odd years, I found Heavy Metal- which was a more than acceptable substitute.


In an attempt to fit in, I indulged the requisite amount of wuss metal- Motley Crue, Poison, even Bon Jovi made the cut back in the day- before you scoff, remember, drunk thirty year old assholes who bleat "Living on a Prayer" at the top of their lungs whenever it rears its head at the local bar, weren't born drunk thirty year old assholes who bleat "Living on a Prayer" at the top of their lungs whenever it rears its head at the local bar, they were made drunk thirty year old assholes who bleat "Living on a Prayer" at the top of their lungs whenever it rears its head at the local bar through years of systematic abuse; Or in this case, rampant, unprotected exposure to Bon Jovi.


This shit wasn't the real deal. It was about good looking assholes that swam through rivers of pussy, did lots of drugs, and then sang about swimming though rivers of pussy and doing lots of drugs- or was it the other way around? Who cares, chicken, egg, it all amounted to the same: empty odes to sex, drugs and rock n' roll that glamorized a lifestyle neither myself nor anyone else in the listening radius had a shot of attaining (time has proved me right). No rebellion, no defiance, bereft of any contemplation or meaning, hollow echoes of the music of the 70's that had inspired these mutts. I liked it because I was supposed to like it. Liking these talentless assholes meant that the talentless assholes who listened to them might cut you some slack.


But I also discovered a band that actually wanted to sing about interesting shit, who appealed to kids who might not be getting laid, but had plenty of anger, frustration and imagination to go around, and they even did their listeners the courtesy of playing the hell out of it- full on balls and soul, the key ingredients to any good music. This was Iron Maiden. They sang angry, explosive, testaments about Vikings raping and pillaging, nukes, operas, whores (real working girls not LA glamskanks), military conquerors, the undead, flying aces, and a wide and varied assortment of science fiction novels and movies- they had a song about Dune for Christ's sake. About fucking Dune. Who writes a song about Dune? Who writes a good song about [bDune?


I'm still on topic, trust me. After starting what was at the time, the newest album from the band, Somewhere In Time, I began tracking down all the previous albums, among them Number of the Beast.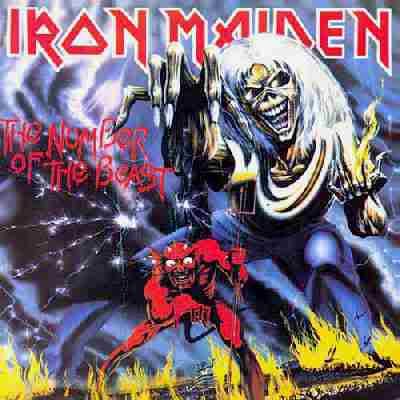 Track Three was titled The Prisoner. It began with the following conversation between a stilted tormentor and a man demanding answers and getting laughed at for his trouble:

"We want information. Information… Information…"
"Who are you!?"
"The new Number Two."
"Who is Number One?"
"You are Number Six."
Odd, Gregorian chanting rises in the background as the questioner takes a moment to absorb this information…
"I am not a number, I AM A FREE MAN!"
The tormentor roars laughter – the mockery echoes and the drums to Iron Maiden's furious tempest of music begin.

It loses a little as text...

This short exchange (which was edited from a longer version for the intro to the song) made me furious and happy for reasons I couldn't explain. The prisoner was at a disadvantage, clearly bested, but he didn't act like it. He didn't give in. And he was pissed. Though the exchange ended in the laughter of the enemy you know the conversation wasn't done, not by a longshot. Damn but it was a powerful piece. I didn't know what it was from, but for an awkward, bullied, freak it was unforgettable.


A year or two went by- life got a little worse, then a bit better- my looks settled in to something which might be considered appealing if not outright handsome and I'd parleyed my talents into acting (due in no small part to wanting a chance to play a character as compelling as the one I'd heard in that song) where I was on equal footing with the jocks when it came to women (which caused its own problems- point is, I'm not pretending my life was an utter hell, just a place where I wasn't comfortable in my own skin). I couldn't find the source of the dialogue (remember kids, no internet back then, and good luck finding info like this in a library!), but I didn't forget that voice. Then one evening I saw in the TV guide, around 1am, one of the networks was showing an hour long show called The Prisoner."


Hmmn… could it be? I stayed up, and sure enough, there it was- same voices, but now with visuals- sometime in the 1960's a man resigns from his job and goes home, where he is gassed to unconsciousness. He wakes up… in his home. Until he opens his front door to discover himself in an odd, fantastical, cruel place from which there is no escape- and then came that dialogue I had burnt into my memory. I sat completely enthralled- I quite simply had never seen anything like it before.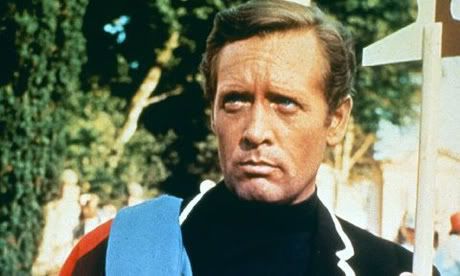 And by the end of the whole thing, he had failed. He was still a prisoner. He had made an attempt to get away, almost succeeded, only to be betrayed by his fellow prisoners. Number Six (the character's name was not revealed) slowly walked back to his faux flat, defeated, yet oddly unbowed, and then his face zoomed at the camera only to be stopped by iron bars clacking right in front of him. That was it.


I'd found the gateway. Trouble was, it only lead so far. No other episodes were being shown the rest of the week, just this one hour, leading me to believe it was simply a one-shot, a fluke; just one evening where for some reason or another somebody decided to throw on one hour of filler.


Over the next two years, I tracked down all seventeen episodes (again, no internet, no Kim's Video in South Carolina, though I managed to get two episodes from Blockbuster Video), until I had seen them all. The Prisoner was a unique animal; it didn't neatly fit into any of the usual television paradigms for "action dramas"- the main character almost never touched a gun, he didn't have a "romantic interest," his archnemesis changed from week to week yet remained the same, threats were every bit as cerebral as physical. Any formula that managed to get through was incidental- partially because McGoohan wasn't in it for the money, nor the long term- he had the entire work envisioned from beginning to end in seven episodes, changed to seventeen to appease network bean counters- and even then he worked to make the filler mean something- one "extra" episode, Living in Harmony even being unaired in the US due to its anti-Vietnam implications (they should have aired it; in the end, the reluctant Sheriff does indeed take up the fight, but not before putting down his badge). There were bold, bizzare visuals packed with rich subtleties, performances that ranged from lunatic to epic, and at the center of it all, this Patrick McGoohan, Number Six- the man who would not break. He took everything they had to throw at him. He took it and he never broke, never stopped, never gave up and did he win? Not easily answered. Find out for yourself.


You could read volumes on the meanings of the show, the proposed resolutions, the secrets- it doesn't matter to me. All the literal secrets of the premise are irrelevant. Number Six's identity is irrelevant. Whose "side" the Village is on is irrelevant. The meanings and reveals behind the final episode that forced McGoohan to flee England from frenzied legions of fandom are irrelevant (thank God there was no internet then, McGoohan would have been e-crucified- you think Transformers Fanboys are irate? I can only imagine the ridiculous murderous sputtering of the special breed of loser that must have been a disappointed "Prisoner" thrall). What it comes down to is the herd subjugation of the individual, and the individual's response to it- are you hammer or anvil? How do you become free? How do you stay that way?


McGoohan didn't pander, he didn't spoon feed. The Prisoner was made on his terms, showed it to whoever would watch it, and didn't give easy answers- no exposition, no extreme close-ups. He deliberately provoked and challenged the viewer- he let the product speak for itself, stood by it, and never made it inaccessible; he was a master storyteller, able to create each and every episode in such a way that a new viewer need only a few moments to catch up. All that quality and he still had the time to give us a moving, wonderful performance as a man that would not be crushed by the world's boot.


When I wasn't watching, I was following McGoohan's example- keep your head up, if you rebel, have a point to it, don't be a goddamn sheep, don't "try" so hard, don't give up, never, ever give up- most of the time, it worked, and if I wasn't entirely a happier man for it, I could look at myself in the mirror.


I'm no great success. I'm not a world-changer or a revolutionary. I don't even act anymore. I don't know what my mark is on this world or if I'll ever have one. But Patrick McGoohan meant something to me. I never wanted to meet him. That wasn't the point. His Number Six is my hero because he kept me living and breathing and showing me how to walk tall at a time when I needed a little help- showed me you could tough anything out if you had the will and the wit. Patrick McGoohan is my hero because his art made me feel something, helped me to stand.




He lived a long life, he had family, he was loved, and I'm not puling that he's gone- he and his family don't need that from me. I'm only slightly incensed that the general public won't be making a big to-do Heath Ledger-style since his time in the spotlight came and went long before his death but all it takes is a rental of a few episodes of The Prisoner to cure ignorance. Watch them all on A&E right now. You can even check him out in Secret Agent or Columbo, or Ice Station Zebra. Most people these days would remember his masterfully wicked performance in Braveheart if pressed, but it doesn't matter that he didn't re-create lightning in a bottle- he did a magnificent, imaginative, great thing once and I could have cared less if he never did another thing after- its our loss, but what he did leave behind sticks hard if you give it a chance.


Oh, and that Scarecrow thing at the beginning? Funny thing that- even more years later, I picked up a book that became one of my favorites- its called League of Extraordinary Gentlemen. During one of its quieter moments, one of the characters chances upon a curious picture of an older League: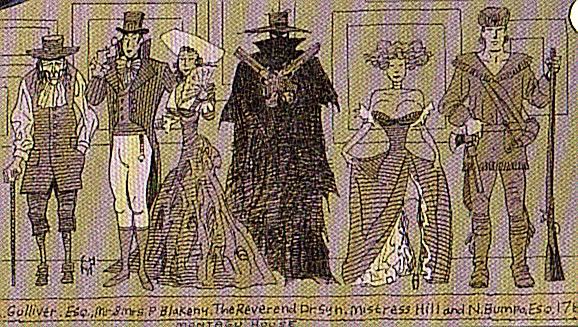 The dark figure with its guns crossed immediately caught my eye. And a Reverend Doctor with the surname of Syn? How strange! By now of course, the internet was well up and running- imagine my surprise when I found that this figure was none other than the Scarecrow of Romney Marsh, who had also been portrayed in a film by none other than Patrick McGoohan.


It's rare that one finds a true hero. It's exceedingly rare that someone should be one's hero twice over without one even knowing it. I won't soon forget Patrick McGoohan. He was a righteous motherfucker when I needed a righteous motherfucker.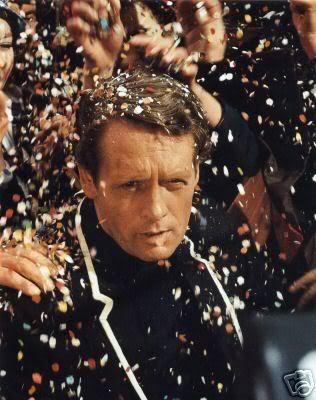 link directly to this feature at http://www.hollywoodbitchslap.com/feature.php?feature=2649
originally posted:
01/15/09 18:42:17
last updated:
01/15/09 19:46:56
printer-friendly format