Sundance Film Festival 2020 (Days 1-2)
by

Erik Childress



My 18th year at the Sundance Film Festival will be chronicled here with ongoing coverage of all the films I saw.


Listen to the Movie Madness Podcast for more coverage
Sundance Film Festival 2020


CUTIES

Sundance rarely gets off to a great start. Sure there has been Whiplash, Mary & Max and even In Bruges over the years, but generally Thursday night has come to feel like a pre-season warm-up. Most people getting in town and settled in. Here are some movies if you want to stretch your legs before the long haul. This year got off to one of the more disturbing kickoff experiences I've had at the festival. Though many seem to disagree and are labeling this film as a fanciful coming-of-age tale of womanhood, what I saw could best be described as Sparkle Motion: The Movie.

11 year-old Amy (Fathia Youssouf Abdillahi) comes from a Sengalese family whose father is about to take on a second wife. This is heartbreaking for her mother, but Amy remains withdrawn from the gravitas of the moment. At her new school her eye catches a fellow group of 11 year-old girls known as The Cuties who have formed a dance troupe. They chide for daring to look in their direction, but Amy makes friends with their leader, Angelica (Medina El Aidi) who lives in her building and as she perfects her dance moves becomes a member of the crew.

If you did not catch the reference above, you may have missed Donnie Darko which features a young dance crew around the same age that featured moves perhaps a little beyond their years. Ironically the adults were oblivious to it and the girls, like in Little Miss Sunshine, were used as satire in the ways children can be exploited for glory. That scene in Darko looks like the Puppy Bowl compared to how Maimouna Doucoure puts the children in this movie on display. Films about the budding sexuality of children tend to treat the subject matter with a delicate sensitivity especially when the character (or especially the actors) are not of legal age. Not here. The dance sequences are in-your-face with writhing bodies and crotches practically breaking the lenses. It is enough to turn us all into parents telling them to put some clothes on. Whatever Doucoure was hoping to accomplish by placing Amy on her journey into womanhood is lost in a sea of bad influence with a group of brats we wouldn't let near our daughters.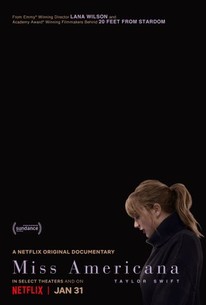 MISS AMERICANA
Sundance's big prize opening was getting one of the biggest musical acts in the world to attend its opening night. Taylor Swift entered Park City with what can be best described as a giant swath of self-propaganda. Miss Americana, directed by Lana Wilson (After Tiller), traces the rise of the country-to-pop star; an incredible success story if there ever was one in any industry. As her base expanded from the heartland to the world over the years so began the kind of expected, if unwarranted, attacks about her weight and likability. One really egregious moment comes from Nancy O'Dell at Access Hollywood commenting on her leggy dress and suggesting she may be going home with more men than Grammys. But as Swift tells us in many on-the-record talks directly to the camera, her entire goal in life is to be good. A damn fine goal if I do say so my damn self, but if this is a film designed to explore such a notion it should come with a bit more introspection.

Just saying one is good and allowing yourself to be filmed when your feelings are hurt is not candid. Swift and her team are clearly controlling the narrative and then expects insta-points when the film sloppily weaves in moments of hardship which should be defining moments for the singer and this film's journey. Out of nowhere it reminds us of how she was groped in full view of cameras by radio show host, David Mueller, and though no one deserves to be defined by their worst moment, it is hard to then play up her talking about it at a concert and singing a song as a staple for the ongoing cause against such assaults. The film picks up a little momentum when Swift makes the decision to finally get political and boosting her base against Tennessee Senate candidate (and "Trump in a wig") Marsha Blackburn. Pushing back against her handlers laying out the blowback she might receive is an interesting scene, but then all that so-called bravery in sending out a tweet just seems to evaporate as she goes about making her next record which, while part message-minded, is also a reaction to being snubbed entirely by the previous Grammys. (See Dixie Chicks: Shut Up & Sing for a superior representation of artists in a firestorm using that to craft their next album.) Wilson's film wants to sell us on her goodness rather than allowing that to shine through naturally which is a real shame since the film ultimately makes her seem even more like a product.
FALLING
The last thing any of us wanted walking into Viggo Mortensen's directorial debut was for it to be anything like the debacle that was Captain Fantastic a few years ago. Mortensen also stars as John, a gay man in a committed relationship who has to bring his declining father, Willis (Lance Henriksen), into their home. The catch? He's one helluva bigot starting at the airport as he frowns disapproval at women in hijabs and continues to make hurtful comments towards his son's partner (Terry Chen) and his daughter's (Laura Linney) family as well.

This is mixed up with regular flashbacks to a younger Willis (Sverrir Gudnason, looking like an always-angry Ron Eldard) which only serves to confuse things further. While not directly given opportunities to spew his conservative hatred, the film almost suggests that his cheating wife (Hannah Gross) and discovery of his son's sexuality turned him into the asshole that he is in present time. As nice it is to see Henriksen in a leading role, it is one without nuance. There is no gray area. There is no real arc to him finding peace with his family. He's just a screwed-over jackass with no redeemable features and even if this has any personal gravitas for Mortensen, his therapy does not translate since his character is left to do little but politely grin-and-bare it for the bulk of the film. I would not go as far to suggest Falling provoked the kind of hateful reaction I had to Captain Fantastic, but there were also no positive vibes to balance what is nothing more than a pretty miserable trip down memory lane as we await the world to be rid of one more old bastard.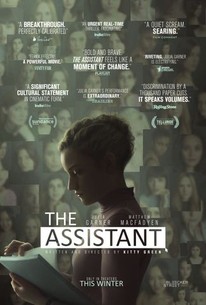 THE ASSISTANT
As a reflection of the times movies find a way to deal with the hot-button issues of the moment. Since 2016 among the two biggest (if not THE two biggest) are Donald Trump and the Me Too movement. While one can imagine the deluge of documentaries alone we will get once the evil is evicted from the White House, it is hard to imagine a film as good as Kitty Green's The Assistant in capturing the mood of not just a moment but lifetimes.

Julia Garner plays Jane who works at a small but clearly influential office of a movie executive. We never see the man in charge of that office, but Jane is there first thing each morning to get the office ready and even clean the boss' couch of the stains that were left the night before. As young women enter the office one after another, two other young men work at other desks in the small room and when Jane runs afoul of the boss they know just how she should word her apology.

In moments like that, The Assistant is reminiscent of Swimming with Sharks which now plays even more sinister given that starred Kevin Spacey as the movie studio boss from hell. Through the eyes of this young woman though, The Assistant has a quiet eeriness to it given the corner she is painted into between complicity and the courage to find her voice. Garner is excellent here in a film that keeps necessary dialogue to a minimum and we're left only with her attempts to conceal her feelings particularly in the centerpiece sequence with a human resources manager (Matthew Macfadyen) which reaches a tension level that most horror films cannot achieve without either of them moving out of their chairs. The Assistant has the feel of an evergreen film that conveys the stark intensity of the voiceless in our world and our silent screams to finally hear what they have to tell us.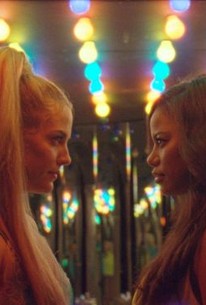 ZOLA
We have reached the age of originality in cinema when Twitter tirades are now being adapted into film. Honestly, we have seen less translated into a screenplay and much more turned into poor excuses for movies. But here we are with the rantings of A'Ziah King turned into a magazine article by David Kushner now a feature film written by Jeremy O. Harris and Janicza Bravo, the director of Lemon. That right there pushed an even larger pause button on the expectations for this comedy, but this is certainly leaps abound in both watchability and substance. Though more on that last part in a moment.

Taylour Paige stars as Zola, a waitress and part-time stripper who meets the buoyant Stefani (Riley Keough) in her restaurant one day. She convinces Zola to take a road trip down to Florida where some real money can be made with better clubs. Nothing unusual about that even as they are joined by Stefani's dumb-as-rocks boyfriend, Derrek (Nicholas Braun), and their peppy driver, X (Colman Domingo). As one might expect surely there must be something odd that is about to occur on this trip and the more one puts aside such expectations the better time one is likely to have.

By that I mean it is easy to walk away from Zola - especially with its shrug of an ending - with the wonder why this story was worthy of cinematic examination. But to focus on a familiarity that Zola does not entirely shy away from, sometimes the journey is better than the destination. Paige helps define Zola with her strength in reacting to the situation rather than the naivete of taking the trip in the first place. Braun is doing such a ripoff riff on Manny Jacinto's work as Jason on The Good Place that it is hard not to expect him to mention Blake Bortles in every scene. Both Keough and Domingo do scene-stealing work here and while Stefani gets a chance to comically tell her version of events, I would love to follow Domingo's hustler around for an entire movie to see his what else is up his sleeve (or vocal cords.) The journey is not all that unique in the pantheon of stories in this particular world, but the way Bravo styles it up and lets the women carry the charge is worthy of more than just a Twitter swipe.
BLACK BEAR
Is life imitating art or is art imitating life? A fascinating question that is too often left unexplored by the very medium that benefits the most from either posing. Lawrence Michael Levine certainly appears interested in it and given he flirted a bit with perception of reality in his screenplay for 2016's Always Shine, he takes to it much more forcefully here. Aubrey Plaza plays Allison, an actress-turned-filmmaker who goes to a lake house to work on her new project. The home is owned by Gabe (Christopher Abbott) whose relationship with his pregnant girlfriend (Sarah Gadon) is passive at best and is about to be tested with the arrival of this sharp, interesting woman.

The first half of Black Bear is like a tea kettle awaiting its inevitable whistle. When it finally comes, Lawrence pulls it off the hot stove and begins a cooling off period. That may be initially disorienting to viewers but quickly begins a spiral of re-evaluation leaving us to determine a chicken-or-the-egg scenario that is equally mysterious and harrowing. Aubrey Plaza can often settle into the kind of sardonic persona she perfected on TV's Parks and Recreation and though I have yet to catch up with her work on Legion, this is certainly the best work of her film career. Allison's introspection into her general attitude and behavior works on multiple levels as a woman either acknowledging her own flaws or a rejection of conforming to a world that deems her problematic through their eyes. The shifting roles of the characters in the first half play just as important a role in the second, particularly Abbott's who shifts between passive-to-full-blown aggressor. But is it also an act to satisfy a means or a smokescreen as well. The questions are fascinating, the performances are great and the emotions are jacked up to the point of discomfort.
link directly to this feature at https://www.hollywoodbitchslap.com/feature.php?feature=4214
originally posted:
02/11/20 11:23:02
last updated:
02/17/20 17:27:39
printer-friendly format