Films I Neglected To Review: Capital Ideas
By Peter Sobczynski
Posted 04/30/20 20:42:56

Please enjoy short reviews of "Bull," "Capital in the Twenty-First Century," "Dangerous Lies" and "The Wretched."

Chicago's Music Box Theatre and the Gene Siskel Film Center are continuing their partnerships with independent film distributors to bring the movies that they normally would have been screening into homes via streaming arrangements that will give them a portion of the proceeds as a way of helping to keep them in business during these trying times. At the Music Box, you can now see "Capital in the Twenty-First Century," a documentary about the current economic climate that has been adapted from the best-selling book by Thomas Piketty. (See below.) At the Siskel Center, the new offerings are led by "Deerskin," the wild new effort from Quentin Dupieux ("Rubber"). In it, Jean Dujardin plays a man in the throes of a midlife crisis who uses nearly all of his remaining money to buy a deerskin jacket that immediately becomes the focus of his life. Alas, the jacket proves to be the Christine of outerwear and it leads him to increasingly bizarre and homicidal acts that eventually involve an aspiring film editor (Adele Haenel) who is convinced he is actually a filmmaker working on a top-secret project. "Pahokee" is a documentary observing the daily life of a small town in the Florida Everglades in the face of a shaky future. "Straight Up" is a contemporary rom-com charting the relationship between a gay man who is convinced that he is actually straight and a neurotic struggling actress. Cesar Diazís "Our Mothers" is a drama in which a young man charged with identifying the missing in the aftermath of the civil war in Guatemala who discover evidence that might point to his own missing father. "An Engineer Imagines" is a documentary that looks at the life and career of Peter Rice, the architectural engineer who designed such remarkable projects as the Sydney Opera House and the Pompidou Centre before his death in 1992.

To order the Music Box titles, go to musicboxtheatre.com For the offerings from the Siskel Center, go to siskelfilmcenter.org/filmcenterfromyoursofa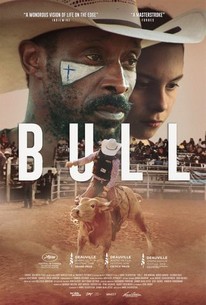 Set in the outskirts of Houston, "Bull" offer viewers a grim variation of the familiar coming-of-age template in which two seemingly mismatched people--one ofd and one young--end up teaching each other valuable life lessons and such. The older one is Abe (Rob Morgan), an aging former rodeo rider who has been reduced to corralling bulls for younger riders while barely coping with his constant pain with a steady diet of booze and pain pills. The younger one is Kris (Amber Havard), a 14-year-old girl whose mother (Sara Albright) is in prison and who lives with her sickly grandmother (Peggy Schott), watches over her younger sister and tries to fit in with the cool kids at school who drink, fight and push pills for a local dealer. Trying to fit in, Kris brings her friends over to Abe's house while he is away and they end up trashing the place. Abe knows that Kris was responsible but as a favor to her grandmother, he agrees not to press charges if she comes over to do repairs and work off the damage. Before long, she discovers the world of the bull riding for herself and becomes fixated on the idea of doing it herself. However, circumstances in both of their lives crop up that threaten to nip this particular dream in the bud long practically before it even has a chance to start.

Watching "Bull" is an occasionally disconcerting experience because while it is clear that director/co-writer Annie Silverstein is trying to present her story in a naturalistic and almost documentary-like manner (from what I understand, virtually all the actors aside from Morgan are non-professionals), nearly every scene will remind most viewers of some previous film--at various times, there are echoes of "The Rider," "The Florida Project," "Winter's Bone," the various film adaptations of the books of groundbreaking YA author S.E. Hinton and any number films involving aging-but-troubled mentors and their talented-but-troubled proteges. Although the details may get darker than expected at certain points, the screenplay that she and Johnny McAllister have created hits pretty much all the expected points at all the expected times and when it does elect to do something different--specifically the point at which it ends--it winds up doing it in a way that almost seems designed to frustrate viewers who have invested in it up to that point. The performances by the two leads are good--Morgan is especially impressive as Abe--but they alone are not quite enough to sell the film. "Bull" has clearly been made with good intentions and there are moments, especially the ones set at the rodeo, where it almost seems ready to break free of its narrative shackles and become something unique. Ultimately, those moments prove to be few and far between in a film more intent on presenting viewers with a grim, if ultimately unsatisfying, variation on an exceedingly standard theme.

Published in 2013, "Capital in the Twenty-First Century," French economist Thomas Piketty's examination of macroeconomic history from the 1800s to the present, was a book that argued that income inequality was an inevitable result of capitalism and that reforms need to come before the entire system fully descends into fascism. Because it made its arguments in a clear and concise manner that didn't require a degree in economics to understand but didn't talk down to readers, the book became a surprise international best-seller. Now New Zealand filmmaker Justin Pemberton has used Piketty's book as the basis for a documentary of the same name as a way of exposing the ideas it presents to an even wider audience than before. On the bright side, the film takes us through the ups and downs of recent economic history in a straightforward manner and explains/bolsters its theories with catchy graphics and commentary from a number of scholars and economists, including Piketty himself. Unfortunately, one of the big innovations of the book--using popular culture as a way of explaining the ideas being put forth--is utilized here in a relentlessly ham-fisted manner that covers the gamut from scoring a montage of ostentatious wealth to Lorde's "Royals" to the use of extended clips from "Pride and Prejudice," "Les Miserables" and, God help us, "Elysium" to illustrate certain points. For the most part, however, "Capital in the Twenty-First Century" is a smart and eye-opening look at the current worldwide financial situation from its dubious past to its shaky future and if it doesn't quite offer up the radical call to action that some might expect, it does provide viewers with a lot to think about as well as ideas as to how to change things before it is ultimately too late.

The logline that Netflix has devised for its new thriller "Dangerous Lies" makes it sound like a virtual carbon copy of last winter's surprise hit "Knives Out." As it turns out, while the film does share a couple of inadvertently similar plot points with that one, the film as a whole is an utterly generic affair in which practically every single scene contains elements that could be traced back to an earlier film that utilized it in a presumably more successful manner. Katie (Camilla Mendes) and Adam (Jessie T. Usher) play a young married couple who are teetering on the edge of financial catastrophe through no real fault of their own. Katie winds up getting a job as the caregiver to an elderly man (Elliott Gould) who lives in a big old house by himself and apparently has no relatives. The two become friends and when he passes away, Katie is surprised to discover that she has been named the sole beneficiary of his estate. Unfortunately for her, this unexpected windfall comes at a price as she and Adam now become targets of suspicion of a cop (Sasha Alexander) who suspects that something strange is up. Meanwhile, Katie finds herself harassed by an extremely motivated real estate broker (Cam Gigandet) and makes a startling discovery in the house that causes her, to quote the aforementioned logline, "to question everyone's motive--even the people she loves."

The problem with "Dangerous Lies" is not that it is bad--though it is pretty far from rising to the level of mediocre--as much as that it is so resoundingly generic. Director Michael Scott and screenwriter David Golden, both of whom seem to have a lot of Hallmark-style Christmas movies on their respective filmographies, clearly know the cliches of the genre but have no evident idea of how to either transcend them or simply bring them to life with a certain amount of wit or cleverness. I think that they were working under the assumption that they were being clever but the screenplay is little more than a collection of crashingly obvious red herrings, paper-thin characters and plot twists that can be anticipated from a mile away. As a "Riverdale" fan of reasonably long standing, I am all for seeing Camilla Mendes front and center in a film and her brief scenes in the opening with Gould are effective but after a while, watching her consistently making one dumbass decision after another, only because the script requires it to move along to the next plot point, eventually becomes a bummer. In the end, "Dangerous Lies" (even the name reeks of quiet desperation) does indeed tell you whodunnit and why but by that point, it is very unlikely that you are going to care at all when that revelation is made.

Viewers of a certain age-are likely to feel certain pangs of nostalgia while watching "The Wretched," the debut film from the fraternal writer-director duo of Brett and Drew Pierce that evokes memories of such favorites as "Gremlins," "The Monster Squad" and "The Lost Boys." As the film opens, troubled teen Ben (John-Paul Howard) has been sent off to spend the summer working for his father (Jamison Jones) at a lakeside resort. Things donít start off particularly well--Ben's recent troubles (resulting in his broken arm) precede him, he discovers that his father is dating another woman (Azie Tespai) and when he begins to hit it off with co-worker Mallory (Piper Curda), he screws things up in a spectacularly gross manner. All of that fades into the background when he begins to suspect that something odd is going on with the family next door--young son Dillon (Blane Crockarell) is scared of his mother, Abby (Zarah Mahler) and before long, both he and the family's baby have disappeared and Abby and her husband (Kevin Bigley) deny that they ever had any children at all. Having pretty much burned through all of his second chances with everyone he knows, Ben is forced to go it alone to pursue his suspicions and comes across the horrifying explanation for what is really going on.

For the most part, "The Wretched" is a calling-card movie--the kind of thing that a first-timer makes in order to call attention to themselves in the hopes of getting to do bigger and better things. By those standards, it more or less works--the Pierces tell their story in a slick and efficient manner that doesn't run out of steam before it ends, get good performances from their cast and even manage to conjure up a couple of reasonably gripping scare sequences to boot. The problem with the film is that while it does a good job evoking memories of any number of past genre favorites and their narrative tropes, it doesn't really break any new ground in how it presents them. This is especially frustrating because there are a couple of potentially provocative developments along the way that are quickly introduced and then just as rapidly tossed away--while watching the film, you always get the sense that the Pierces are maybe just one rewrite away from having something memorable. "The Wretched" is slickly made and eminently forgettable but just interesting enough to make you want to see what the Pierces have to offer the next time around.